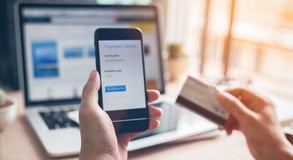 Glossary of Payment Terms
If you are selling goods or services – whether to the public or other businesses – you probably know only too well that payment methods are in the vanguard of technological development in the business world. You will likely also recognise the importance of getting to grips with the language used in such transactions and so we thought we would cover some of these terms in our latest blog.
According to the World Payments Global Payments Report 2020 there are more than 140 online payment methods in use today and the global ecommerce market is expected to be worth more than $4.6 trillion globally by 2022.
The revolution isn't confined to online trading. The U.S. Bank Cash Behavior Survey found that 47% of consumers surveyed preferred using digital payments to using cash, and 50% carry cash less than half the time. Of those that do carry cash, meanwhile, 76% generally carry less than $50.
Merchants who are less than fully equipped to tap into this shift will be left behind by both the competition and potential customers, which is why working with a payment partner like NOIRE is more important than ever.
One of the potential barriers to engagement with multiple payment platforms is the language which surrounds them. A 2020 survey by MoneySuperMarket.com, for example, found that 27% of those asked didn't know what the term 'APR' stands for, while the rise in car finance arrangements (which accounts for 91% of new car sales in the UK) hasn't stopped 54% of consumers not knowing the difference between PCP (personal contract purchase) and PCH (personal contract hire).
As a professional business person it might be tempting to believe that you're firmly on top of the jargon, terminology and buzzwords which surround the field of payment processing technology, but the constantly shifting landscape means that you can never allow yourself to become complacent. It's an industry which uses many terms, word and phrases which simply aren't used in any other industry.
Here at NOIRE we understand that knowledge is power and that a merchant with a full grasp of the language being used will be ideally placed to both take full advantage of the innovation on offer and avoid costly mistakes.
This is why we provide a detailed glossary of the kind of terms which a merchant can expect to deal with when they take full advantage of the power of payment processing. Examples include:
Interchange Fee
The interchange fee is a transaction fee which the merchant's bank has to pay when a purchase is made from their store using a credit or debit card. It is a fee being paid to the bank which issues the card and is intended to cover fraud, bad debt costs and handling costs, as well as the general risk involved in approving a card payment of this kind.
The fee is calculated as a percentage of every transaction, and the process of charging the interchange fee means that the merchant involved will receive the gross amount for each sale minus a number of costs including interchange fees, assessments and any mark-up charged by the card provider.
The interchange fee is set by VISA and MasterCard and is regularly revised, generally falling between 1% and 2%. Any changes in the fee usually take place in April and October.
Merchant Category Code (MCC)
The Merchant Category Code is a four-digit number which is assigned to a business by credit card companies when that business starts to accept card payments using a card machine.
It is set on the the type of business which a merchant is engaged in, using the type of processing, settlement and authorisation being conducted.
In the US, the MCC can be used by the credit card companies to determine whether a payment needs to be reported to the Internal Revenue Service (IRS) for the purposes of taxation. Some examples of MCC's are as follows:
MCC 4722 Travel agencies and tour operators
MCC 4812 Telecom equipment and sales
MCC 4816 Computer network services
MCC 4829 Money Orders – Wire Transfer
MCC 4899 Cable and other pay television (previously Cable Services)
MCC 4900 Electric, Gas, Sanitary and Water Utilities
MCC 5013 Motor vehicle supplies and new parts
MCC 5021 Office and Commercial Furniture
Pick Up Card
Pick up card is a phrase used to describe a payment card which has been used at a point of sale terminal (i.e. a card machine in a retail outlet) and the payment had been declined.
There are various reasons why a card might be declined – such as insufficient funds in the account concerned – but a pick up card message means that the card issuer would like the card to be confiscated from the user. This could be because the user of the card has lost their card or had it stolen, the card or account have been misused in some way or the account has been closed.
Although the issuer would like the card to be confiscated this is clearly not always possible, although if the customer refuses to hand the card in they will be unable to use it anywhere else.
ABA Routing Number
The ABA Routing Number is also known as the American Bankers Association routing number, a number only used in the United States. It is a nine-digit number linked directly to the financial institution associated with the customer's bank account.
The number itself is used to identify the physical location of the bank as well as the Federal Reserve cheque processing centre which serves that specific bank.
The ABA number can usually be found in the bottom left corner of a deposit slip or cheque from the bank. It is also sometimes known as a Routing Transit Number (RTN) or Routing Number.
Anybody wanting to send money to a bank account in the United States will need the ABA routing number to make the payment through Fedwire, and it is also optional if you are using the SWIFT system and using a BIC/SWIFT code.
Here at NOIRE, we don't just understand the terminology surrounding payment processing, we understand how to make that terminology work for our customers. This means knowing how the systems work, what merchants need to do to take a payment from a customer and have it processed into their business, and how to do all of this as smoothly and quickly as possible.
Our very own Payment Processing Glossary is available to help you with all of the jargon and if you need more assistance, then please get in touch with us today – we would be very happy to help you.