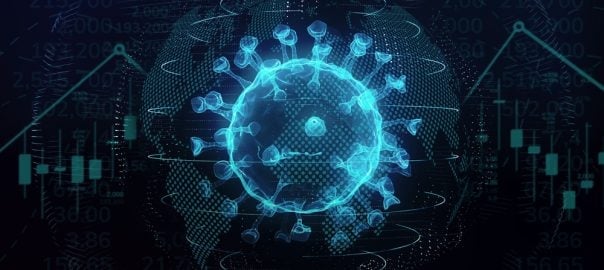 How to trade successfully during COVID19
If your business operates on a global basis then there's every chance that you already offer a broad range of payment options. We've written previously about the payment compliance regulations in place around the world and the different payment methods which are most popular in emerging markets. 
Whether you sell locally or across the globe, the impact of the COVID-19 pandemic has underlined the flexibility which any business, no matter how small, has to demonstrate when it comes to accepting payments from their customers.
How has the pandemic affected payments?
In simple terms, the pandemic plunged two very large nails into the coffin of cash payments. The first of these was the perception that handling cash was a way of spreading the virus. In the UK, for example, in the 12 months following the first nationwide lockdown, the number of visits made by people to ATMs fell by 43%. This accelerated what was already a firmly entrenched shift toward other methods of payment, as did the loosening of regulations regarding the maximum payment which could be made using a contactless method.
The second major blow to the use of cash was the more fundamental fact that all non-essential retail outlets had to remain closed for a large part of the year. At the time of writing (April 2021), non-essential shops have just been allowed to re-open in the UK, but in many other parts of the world, a new wave of infections is leading to further lockdowns.
In simple terms, if a business wanted to carry on trading during the height of the pandemic then they had to find alternative means of reaching their customers and accepting payments. Even as some kind of new normal emerges, there's every chance that the shift away from cash will become permanent. By June 2020 figures in the UK were showing that 7.4 million people were already living what they called 'a cashless life', while in global terms Pew research found that 34% of adults under the age of 50 make no purchases with cash in the average week.
How will businesses adapt their payment methods after COVID-19?
Even as premises are allowed to open again, the expectation of customers will be for merchants to accept the kind of payment options that prioritise a friction-free experience and security. Trading successfully during COVID-19 will involve maximising the flexibility you offer in terms of payment options, while the post-COVID-19 retail landscape is likely to reward those merchants that continue to do the same.
Overall, options such as digital payments and online sales funnels are now no longer the preserve of companies with a global reach – even if you operate a market stall, ice-cream van or corner shop – you have to be prepared for customers bringing an increasingly wide range of payment options to the checkout.
The building blocks for an effective COVID-19 payment framework include the following:
Online payments
If you weren't already accepting payments online then the last 12 months – with people all over the world forbidden from leaving their homes – was the ideal time to establish one. Starting from scratch will mean building an e-commerce website from nothing (or having one built for you) or making use of third party software usually referred to as a shopping cart.
Creating a solution from the ground up will enable you to tailor it to specifically suit your business ethos and requirements, but will also be a more costly and time-consuming process. The off the peg solution of a shopping cart will be more standardised (although customisable aspects are available) but will make it possible to reach market much more quickly.
In either case, taking online payments for the first time will be a simpler and much more secure process if you work with a payment partner like NOIRE.

Phone payments
Slightly less involved and cumbersome than the creation of a new online presence is the switch to taking payments over the phone. In most cases, merchants will be able to make use of their existing point of sale solutions to take payments using methods such as debit and credit cards.
Concerns around the issue of security should be allayed to a large degree by relatively new international standards such as Payment Services Directive 2 (PSD2), which tackles fraud via the application of Secure Customer Authentication (SCA) measures. We've written in detail about these measures in the past, and all NOIRE merchants can be secure in the knowledge that their payments are being processed as securely as possible.
An alternative to the standard telephone payment which is popular in many countries is the pay-by-link solution. This makes use of technology that enables the merchant to send a link to the customer, via which they can access an online payment portal. This offers much of the convenience of telephone and online payments without the work of having to build a dedicated e-commerce presence.
Digital wallets
Many customers have now moved one step further than the use of payment cards and enjoyed the convenience of digital wallets based on mobile devices such as smartphones. Via digital wallets such as Apple Pay and Google Pay, customers can pay online without even having to reach for their wallet to tap in a card number. The frictionless nature of digital wallets means that, after a customer has made an initial payment with a merchant, they can check out seamlessly in the future, without having to enter payment details or even delivery and contact information.
Maintaining a retail business during a period like the pandemic means having the flexibility to adapt quickly to a highly volatile situation. In addition to offering the many payment options which customers have turned to in the last, rather unusual, 12 months, merchants need to be able to pivot quickly to any new options which emerge in the future.
Although the pandemic didn't see the rise of crypto-currencies that was predicted by some experts, there is still the possibility that payments based on blockchain technology will become more popular in the future. Any merchant wishing to thrive in the 21st century needs to be able to cope with changes like this, and with the way in which the regulatory landscape is constantly evolving to keep pace with technology.

NOIRE Keeps It Simple
We work to keep things simple, staying on top of the latest changes across the spectrum of payment processing so that the merchants that work with us don't have to. If you'd like to know more about how our commitment to simplicity, security and flexibility could help your business through the COVID-19 pandemic and beyond, please contact us today.